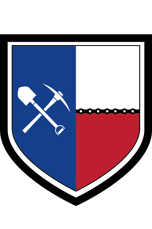 Support Local Trails, Race Local Trails!
The Six Pack Outdoors CX Series is grassroots cyclocross racing at it's finest! We have six races, all at The Schoolyard. whether you're a first time racer or a seasoned veteran, come out and join us!
Proceeds from the races go to fund development and maintenance of The Schoolyard.
What is CX?
Cyclocross racing takes place on technical outdoor courses of grass, dirt, mud, sand or sometimes snow. The courses will also have obstacles that may require you to dismount and remount your bike.
Where are the races at?
All 6 races are at The Schoolyard (formerly know as Tornado Alley) in Amarillo, TX.
What kind of bike can I use?
Since these aren't USAC sanctioned events, you can ride any bike and tire size you want. Mountain bike, cross bike, gravel bike, hybrid, or whatever bicycle you want to ride.
What is the distance?
The course distance will be 1-2 miles In length. A usual race lasts 30-45 mins.
What if I'm new to CX?
We will have 2 groups A and B. The A Group races will last about 45 mins while the B Group will be about 30 mins.
If you would like to sponsor the series, please contact us!
info@sixpackoutdoors.org